Jocelyn Aubrun, Flöte
Jocelyn Aubrun,
Querflöte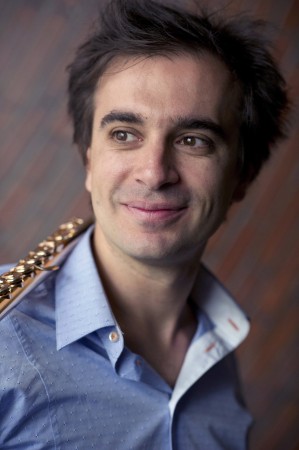 ©Jean-Baptiste Millot
Der französische Musiker Jocelyn Aubrun ist seit 2006 Soloflötist im Orchestre National de Lyon. Mit dem Orchester spielte er 15 CD's ein, u.a. den Bolero und Daphnis und Chloe von Ravel, den Tanz der sieben Schleier aus Salome von Strauss.  Dirigenten waren etwa Stanislaw Skrowaczewski, Neville Marriner und Jakka-Pekka Saraste. Zudem ist er oft als Gast-Soloflötist gefragt, z.B. im Gürzenich-Orchester, im Orchestre de Capitol de Toulouse oder im Orchestre National  de Bordeaux.
Er gewann viele internationale Wettbewerbe und ist häufig auch als Kammermusiker gefragt. So stand er etwa mit Tom Koopmann, Nora Gubisch, Vincent Warnier und Vardan Mamikomian und Guillaume Sutre auf der Bühne.
Als Solist spielte er mit namhaften französischen Orchestern und dem Krakauer Sinfonieorchester.
Viel beachtet waren seine zwei Kammermusikeinspielungen mit der Pianistin Aline Piboule,
Im Radio war er zu hören in den Sendern France Musique, France Inter, RTS und RCF.
Oft wird Aubrun zu Meisterkursen eingeladen, etwa nach Paris, Los Angeles und Istanbul.
Studiert hat er in Nizza, wo er 2000 sein Diplom in Klavier, Flöte, Musiktheorie und Kammermusik machte. Er ist stark beeinflusst von Aurele Nicolet, von dem er in Freiburg viele Privatstunden erhielt. Darüber hinaus studierte er bei Serge Saitta in Genf die Barockflöte und hält in diesem Fach einen Master's  Degree.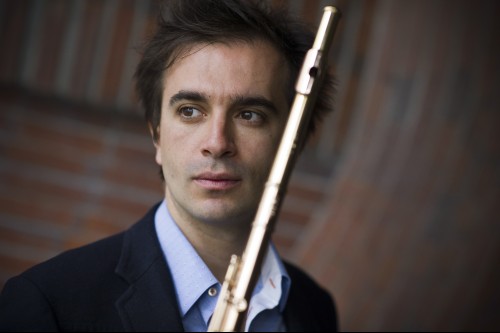 ©Jean-Baptiste Millot


French musician Jocelyn Aubrun has been Principal flute of the Orchestre National de Lyon (O.N.L) since June 2006, directed and conducted by Leonard Slatkin.
Within this Orchestra, he has recorded about fifteen cds (including Ravel's Daphnis et Chloé and Boléro, Debussy's Prélude à l'après-midi d'un faune (Naxos), Strauss' Salomé dance of the Seven Veils (Altus)…) and he has performed with conductors such as Stanislaw Skrowaczewski, Yannick Nézet-Seguin, Jukka-Pekka Saraste, Neville Marriner, Vladimir Fedosejev, Manfred Honeck, Osmo Vänska, Alan Gilbert.
Furthermore, he regularly appears as a guest principal flute with orchestras such as Orchestre du Capitole de Toulouse, Gürzenich Orchestra (Cologne), Orchestre National de Bordeaux, the Nagaokakyo Chamber Ensemble (Japan).
Jocelyn won awards at numerous international competitions, (such as Jean-Pierre Rampal in Paris, Krakov ans Arles competitions) and is also a laureate of the Natexis Foundation (Fondation Banques Populaires).
As a chamber musician, he shares the stage with Guillaume Sutre, Jean-Yves Thibaudet, Vincent Warnier, Kyung Hee Kim, Lise Berthaud, Nora Gubisch, Ton Koopman, Emmanuel Rossfelder, Lorenzo Gatto, Vardan Mamikomian…in numerous festivals.
As a soloist he has been playing with the Orchestre National d'Ile de France , the Krakow Orchestra, the Orchestre de Cannes, and the Orchestre National de Lyon, among others.
Jocelyn has released two chamber music albums alongside pianist Aline Piboule for the Lyrinx and Artalinna record labels, both highly acclaimed by the press (Classica, MusicVoice, Classical Source).
His performances have been broadcasted on radios such as France Musique, France Inter, RTS and RCF.
He is frequently invited to give masterclasses (Paris, Lyon, Nice, Los Angeles, Istanbul…)
He studied at the Conservatoire de Nice (CNR) where he graduated in 2000 with First Prize in piano, flute, music theory and chamber music, and at the Conservatoire National Supérieur de Musique et de Danse de Lyon (class of P. Bernold) where he was unanimously awarded First Prize in flute with honorable mention in 2004 (Master's degree). He has also worked during his scholarship with Karl-Heinz Schütz and Jean-Louis Cappezzali, and had many private lessons with Aurèle Nicolet in Freiburg which influenced him greatly.
He has also been studying baroque flute with Serge Saitta in Haute Ecole de Musique de Genève (Master's degree).