Maja Bogdanović, Violoncello
Maja Bogdanović,
Violoncello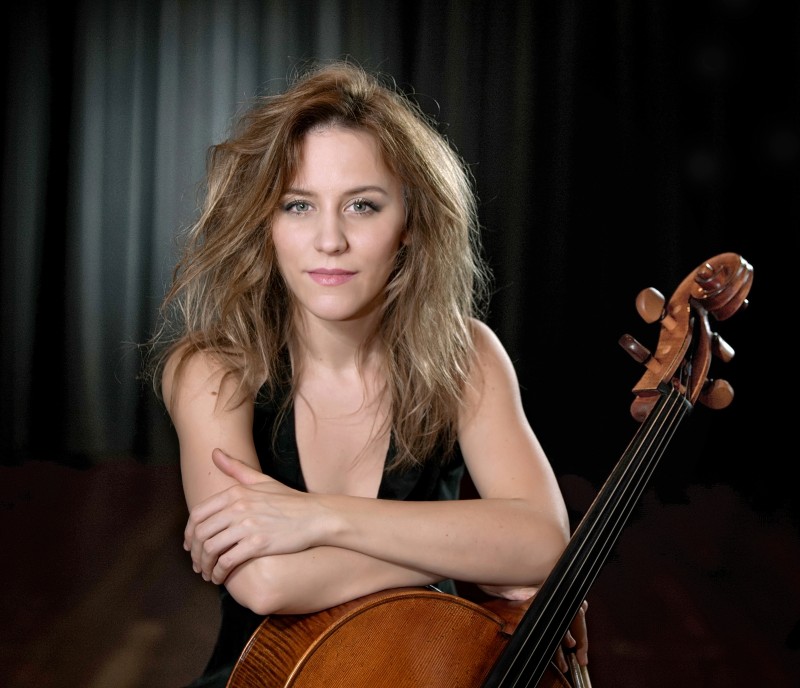 Foto: Bernard Martinez
Nach ihrem Konzert in der Carnegie Hall feierte die Zeischrift "Die Strad" Maja Bogdanovic'  Spiel als "hervorragende  Performance mit überirdischer Tonschönheit, großer Reife der Interpretation und technischer Exzellenz" . Immer wieder begeistert sie ihre Zuhörer und gehört damit  zu den  führenden Cellistinnen und Cellisten unserer Zeit.
Ihre Kozertengagements umfassen so bekannte Partner wie das Tonhalle Orchester Zürich, die Berliner Symphoniker in der Philharmonie, das Tokyo Philharmonic, das Bremerhavener Staatsorchester, das Serbische Radiosymphonieorchester und viele andere.
Die Qualität ihrer Recitale und Kammermusikinterpretationen wird  vielerorts sehr geschätzt, darunter auf weltberühmten Festivals und in vielen Konzertsälen wie das Concertgebouw Amsterdam, die Tonhalle Düsseldorf,  La Salle Gaveau und La Salle Pleyel in Paris, das Prinzregententheater in München, das Giverny Festival, das European Festival of Young Talents in Paris, die Amsterdamse Cello Biennale u.v.a.
In dem außergewöhnlich großen Repertoire von  Maja Bogdanivic nimmt die zeitgenössische Musik einen vorzüglichen  Raum ein. Sie spielte Uraufführungen von  Werken von Krzysztof Penderecki, Sofia Gubaidulina, Benjamin Yusupov, Ivan Jevtic und anderen.
Besonders hervorzuheben ist ihre Zusammenarbeit mit Penderecki, die in Frankreich mit dem Orchestre National des Pays de la Loire begann, und mit dem Slovenian Philharmonic, dem Belgrad Philharmonic und dem Tonhalle Orchester Zürich fortgesetzt wurde. Zusammen mit einer ausgewählten Gruppe von Weltstars wie Lorin Maazel, Anne- Sophie Mutter, und anderen war sie zu einer besonderen Veranstaltung anläßlich des  80. Geburtstages von Penderecki in Warschau  eingeladen, wo sie mit Yuri Bashmet, Julian Rachlin und Barry Douglas zusammen arbeitete
Hailed by The Strad after her Carnegie Hall recital for "an outstanding performance of exceptional tonal beauty, great maturity of interpretation, and technical excellence", Maja Bogdanovic continues to reward audiences worldwide as one of the leading cellists of today.
Ms. Bogdanovic's concerto engagements include Tonhalle Orchester Zurich, Berlin Symphony at the Berlin Philharmonic Hall, Tokyo Philharmonic, Bremerhaven Staatsorchester, Bergische Philharmonie, Slovenian, Belgrade and Macedonian Philharmonic, Orchestra del Teatro Civico Schio, Lubbock Symphony, Spokane Symphony, Munchenner kammerorchester, Sydenham Festival Orchestra, Serbian Radio Symphony, Orchestre National des Pays de la Loire, Korean Wonju Philharmonic Orchestra, Salta Symphony Orchestra, Morelia Philharmonic Orchestra, St. Bartholomew Orchestra London, Vojvodina Symphony, Orchestre des Laureats du Conservatoire de Paris, Orchestre de Chambre Nouvelle Europe as well as chamber orchestras Dusan Skovran, St. George Strings and the Sejong Soloists
The quality of her recital and chamber music interpretations continues to be applauded at many of the world's leading venues and festivals which include the Royal Concertgebouw Amsterdam, Muziekgebouw Amsterdam, Tonhalle Dusseldorf, Salle Pleyel, Salle Gaveau and Amphitheatre Sorbonne Paris, Palais des Congres Nantes, Prinzregententheater Munich, the Festival de Radio France et Montpellier, Kuhmo Festival, Beauvais Cello Festival, Festival du Perigord Noir, Giverny Festival, European Festival of Young Talents in Paris, Plaisir de Musiques Annecy, Arcachon Festival, Classiques d'avenir Biarritz, Folles journees in Nantes, Roque d'Antheron, Zeist Festival in Holland and Amsterdamse Cello Biennale.
Among her exceptionally wide repertoire, Ms. Bogdanovic dedicates a special place as a champion of contemporary music. She has premiered works of Krzysztof Penderecki, Sofia Gubaidulina, Philip Sawyers, Nicolas Bacri, Eric Tanguy, Benjamin Yusupov, Ivan Jevtic and others. Most notably, her collaboration with Krzysztof Penderecki began in France, with the Orchestre National des Pays de la Loire, and continued with the Belgrade Philharmonic, Slovenian Philharmonic and the Tonhalle Orchester Zurich. Among a select group of world's leading artists that have included Lorin Maazel, Anne-Sophie Mutter and others, Maja was invited to give a special performance in Warsaw for the occasion of the composer's 80th birthday, collaborating with Yuri Bashmet, Julian Rachlin and Barry Douglas.