Maja Horvat, Violine
Maja Horvat,
Violine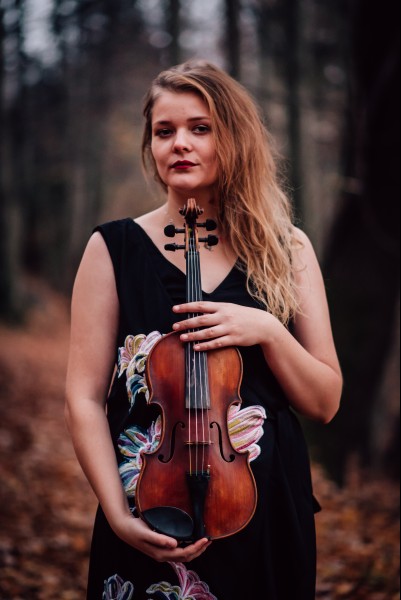 ©David Šavli
Maja Horvat
started playing the violin seven years old, at Music School Jesenice. Her first teacher was Bojan Ristić, later on she studied with prof. Blanka Piotrovska. During the seven years she spent there, she played in many concerts, and performed at many cultural events. She gained significant experience in performing and travelled around Slovenia, alongside Germany, Czech Republic, and Austria. She graduated at the Conservatory for Music and Ballet Ljubljana in the class of Volodja Balžalorsky in 2015. Since October 2015 she has been studying at the Royal College of Music London with prof. Daniel Rowland and prof. Leonid Kerbel. She has worked with many respected teachers such as Ivry Gitlis, Maxim Vengerov, Anton Martynov, Alina Ibragimova, Saewon Suh (Korea), Vasilij Meljnikov (Music Academy Ljubljana), Tatiana Balashova (Russia), Igor Ozim (Mozarteum Salzburg), Wonji Kim Ozim (Mozarteum Salzburg).
As a soloist and with a series of chamber groups, she won several prizes at national and international competitions. Her most important achievements are: 1st prize with full points at the Temsig Slovenian National Competition for young musicians in 2018. Most recent solo award is the 3rd prize and the special Szymanowski award at the 1st International Karol Szymanowski Competition in Katowice, Poland. She is also a cofounder of the Brompton with whom they won the 2019 St Martin in the Fields Chamber Competition and were awarded the Park Lane Group award. She is the recipient of the Royal Philharmonic Society Emily Anderson violinist award for 2019.
As an orchestra member she performed with Symphonisches Orchester der Jeunesse Leibnitz, Ljubljana International Orchestra, RCM Philharmonic Orchestra and RCM Symphony Orchestra. In her last year at the Conservatory of Music and Ballet Ljubljana she was the concert master of the Symphony Orchestra.
As a soloist, she has performed with: the Slovenian Philharmonic Orchestra, Chamber Orchestra of Slovenian Philharmonic, National Polish Radio Symphony Orchestra, RCM Philharmonic Orchestra, RCM Symphony Orchestra, Symphony Orchestra of Conservatory of Music and Ballet Ljubljana, Chamber Orchestra Mladi ljubljanski solisti (Young soloists of Ljubljana), Mendelssohn Chamber Orchestra, and occasional orchestral groups.
 Her most memorable solo recitals include: a concert in the organisation of Glasbena Mladina Ljubljanska (Music youth of Ljubljana) in Križanke, Ljubljana (2014), a recital in the Baroque hall, Radovljica (2015) and a concert in Grand Hotel Union Ljubljana (2017).
She has also appeared at many festivals in Slovenia (Nights in the old Ljubljana town, Tartini festival...) and abroad (Upingham Int. Music Festival Peterborough, Padova, Stift International Music Festival, ChamberJam Düsseldorf...)
She is a Leverhulme Arts scholar at the Royal College of Music, and is generously sponsored by Zavarovalnica Triglav, and kindly supported by Rotary Club Bled, Rotary Club Brnik  and many other unnamed donors.